Dishwashing gloves are essential items for healthy living.
You must use the best gloves for dishwashing to maximize hygiene, performance, and maintain healthy skin.
There are several reasons why you should use dishwashing gloves. Here are a few most common and important reasons to consider when opting for them. 
– Care of your hands
Dishwashing makes use of detergents and soaps that are harsh on hands but required for cleaning utensils. These detergents make the hands dry and may also cause cracks in hands which might hurt. The use of dishwashing gloves can help you save your hands from drying and hurting chemicals like phosphates, ammonia, formaldehyde, SLS, etc.
– Thorough cleaning of dishes
Dishwashing gloves work as a weapon for thorough cleaning of utensils and removing stuck food. Some gloves for washing dishes come with bristles. These bristles are helpful in cleaning stuck-on food. Also, hand covers provide a better grip while handling slippery plates. You will definitely notice shiny and clean dishes at the end of the process.
– Provide safety from hot/cold water
Several times we use hot water for washing dishes, and the process becomes hard while washing with bare hands. The gloves will help you save your hands from burns.
You can apply moisturizing lotion before putting on gloves. The skin pores open when hot water pours, and the moisture will be well absorbed.
Also, when the temperature drops suddenly water becomes chilly. Being an allergic person, I know how using cold water more often affects my overall wellbeing. So, I will recommend people with the same issue to use gloves.
How dishwashing without dish gloves ruin our beautiful hands?
The dishwashing soap and detergent is strong and affects the delicate skin of the hands. The harsh dishwashing liquids cause rashes & skin dryness, but also permanent problems like dermatitis and eczema.
The detergent might commonly include harmful chemicals such as formaldehyde, phosphates, SLS, Triclosan, and Ammonia can cause drying of the skin and can also cause cracks in the skin.
These chemicals are not just harmful to the skin and also toxic to the environment which, acts as pollutants for waterbodies.
How long do dish gloves last?
There isn't any specific period defined to determine the longevity of dishwashing gloves, but it depends upon the material and care taken of the gloves. Better the material longer the gloves will last.
The nitrile gloves might last up to five years, while the latex gloves will last three years if care is taken properly. It is better to use two good-quality gloves for a year than to change cheap quality gloves frequently. Take care of your gloves by cleaning them with warm water and hanging them to dry completely.
How often should you change dish gloves?
There isn't any determined time for changing dishwashing gloves it depends more on the condition of the gloves and how you take care of them. Commonly, two pairs of gloves can last for a year.
It is better to change dish gloves every six months for a more comfortable cleaning experience.
Why do dishwashing gloves get sticky?
The aging of gloves especially, the latex-rubber gloves, causes them to become messy and sticky. This stickiness is very common, and it is a sign that says you need to get a new pair of gloves. The aging of gloves can speed up, due to hot water or more friction/stretch.
Better care of gloves can extend their life, simple steps involve cleaning gloves in and out with warm soapy water and hanging them till dry.
8 Types of dishwashing gloves and the best ones
There are 8 different types of dishwashing gloves available in the market. Let's look at them to understand which type will be the most suitable for you.
1. Latex or rubber gloves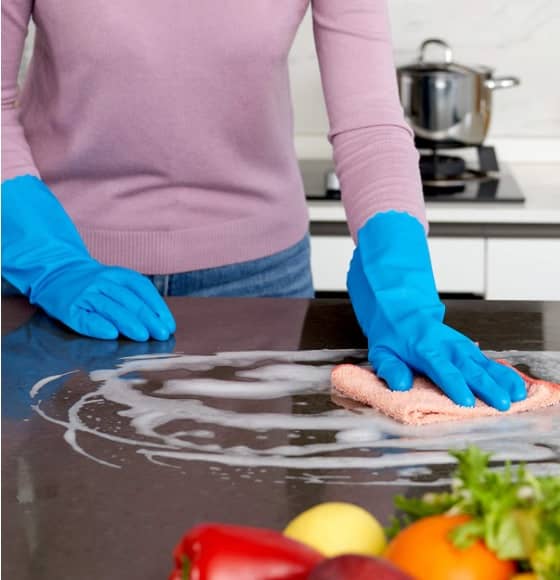 Rubber gloves are reusable and more durable than any other dishwashing gloves. There are many brands that offer good quality, reasonable length, multipurpose rubber, or latex gloves. I usually prefer to go with a dedicated brand for gloves. Not any other brand that sells gloves along with other non-related products.
Vgo specializes in latex gloves. It offers the best rubber gloves for washing dishes. Like, these rubber gloves from Vgo are extra thick and have long-length. These can be useful for multiple tasks such as cleaning, painting, car-washing, gardening, etc.
These rubber gloves are made with flexible and anti-slip material for better grip and thorough cleaning. These rubber gloves may smell a little rubbery on unpacking. People allergic to rubber smell should take caution and wash them before use.
The rubber gloves are resistant to heat and cold so, you can comfortably use them with hot and cold water.
Can rubber dish gloves be washed?
Yes, you can reuse and wash the gloves. Clean them with mild-warm and soapy water.
Can you put rubber dishwashing gloves in the dishwasher?
It is better to avoid putting gloves in the dishwasher as it isn't the right place. Wash the gloves with warm and soapy water instead.
2. Silicone Dish Gloves
The silicon cleaning sponge gloves are popularly used, around the globe. These are reusable and resistant to heat. The gloves have bristles in the palm area. They are not too hard but good at cleaning grease.
These are usually made with 100% food-grade silicone, so it is free from any toxic material and can be used for cleaning dishes. The heat-resistant property (up to 160 degrees Celsius) makes it easier to use with hot water, and you can clean gloves in the microwave or boiling water.
You can use it for cleaning dishes or car washing and lifting hot utensils or removing the tray out of the oven. These properties make this hand covers multipurpose. If you want to have the best silicone gloves, I recommend these dish gloves from Forliver– they are cheap, durable, heat resistant, and lightweight.
3. Non-latex dish gloves – best reusable dishwashing gloves:
The latex-free reusable dishwashing gloves are also among the top preferred gloves. For manufacturing, these gloves most brands use top-quality PVC material to make them durable and safe for kitchen use. One such brand is Elgood gloves and these are their most popular reusable dish gloves.
These gloves include cotton lining weaved with PVC using advanced flocking technology. The gloves are designed with granules on the palm and finger for better grip and thorough cleaning. These designs also enhance friction and help in cleaning. The length of the gloves is ideal and reaches up to the elbows.
The gloves can also be used for multipurpose functions, have waterproof and oil-resistant properties. The gloves are soft and comfortable too.
4. Eco-friendly, green gloves– best washing gloves for sensitive skin: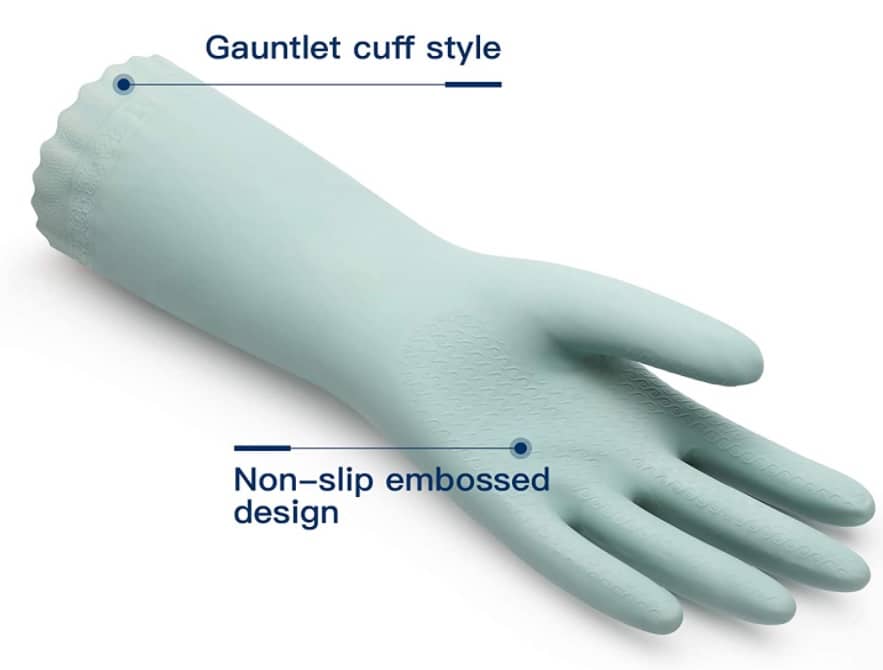 As the name suggests these dishwashing gloves are manufactured with materials that are safe for the environment. But finding a durable pair of gloves in this segment is tough. After, using so many brands my friends recommended me the Lanon eco-friendly gloves. These are a perfect fit for sensitive people. After using them extensively, I believe these are the only eco-friendly dishwashing gloves that are cost-effective.
These reusable gloves are made with environmental grade PVC material. They are odorless too, hence good for people who are allergic to rubber smell.
These gloves are waterproof and also resistant to low concentrated oil. The gloves are very soft and easy to pull, making them comfortable. The palm is non-slippy and offers a good grip.
5. Sponge scrubber or gloves with bristles
The scrubber gloves are magical tools for your kitchen work. The gloves and bristles are made with silicone. They are resistant to heat and have soft bristles. You can use these gloves for different cleaning tasks. I usually use this glove brand the most because these gloves have dense bristles and they last longer. For me, these are the best sponge scrubber gloves with bristles.
The silicon is 100% food grade with natural and speedy drying technology. They are anti-bacterial and can be used for cleaning vegetables and fruits. The size of gloves is convenient and highly elastic, so they don't tear easily.
6. Best Cotton Lined dishwashing gloves
The cotton-lined gloves from 2 good are affordable, look cute, and made with soft flock lining. This pair of reusable gloves are multifunctional and ideal for cleaning and washing. These gloves are absorbent to moisture and sweat, which keeps the hands dry and warm. The granule design on the palm and fingers enhances the friction and helps in better cleaning. The gloves are soft and easy to wear and remove.
7. Extra-long sleeve–best dishwashing gloves for hot water
These are extra-long sleeved gloves with a long-cuff made with cotton lining are weaved professionally with flocking technology by the brand Elgood. These gloves are made with premium quality PVC material. The palm and fingers of the gloves have granules to increase friction and ensure a better grip for holding and washing utensils. The long length of gloves protects the arms from getting wet and dirty. The gloves are also resistant to water, oil, and grease.
8. Vinyl gloves– best disposable kitchen gloves
The vinyl gloves are a pack of disposable gloves made with powder & latex-free vinyl material. These are multifunctional gloves used in commercial kitchens and sandwich shops. These are great to maintain, hygiene while cooking or serving the food. The gloves offer a consistent fit so that you can dispose of them. The key feature is they are safe for handling food. I swear by the brand Ridex store when it comes to hygienic disposable kitchen gloves.
(Visited 375 times, 1 visits today)
[mc4wp_form id="5878"]